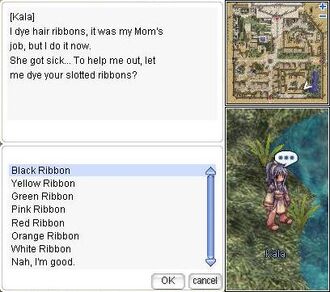 -----------------------------------------------------------------------
Slotted Dyed Ribbon Creation
NPC : Kala
Location : Rachel ( 242, 50 )
---
With a Ribbon [1] and some materials, you can create one of the followings:
White Ribbon
Pink Ribbon
Red Ribbon
Orange Ribbon
Yellow Ribbon
Green Ribbon
Black Ribbon
She will push you into the pool if your answer is "Nah, I'm good"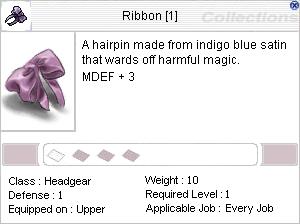 Creation of any of the available Ribbons will require Dyestuffs.
You can obtain Dyestuff from either Dyestuff Creation Quest, or from Gift Boxes.
Remember to decard any compounded card before proceeding with the creation, else you will lose any card that was compounded into the Ribbon [1]
Any previous refine rate will also be lost
Do not have more that one Ribbon [1] in your inventory unless none of them are of importance.
Black Ribbon [1]
Edit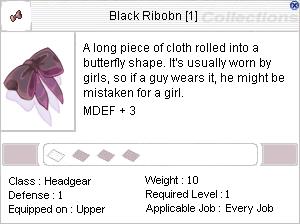 Materials Required:
1 x Ribbon [1]
10 x Black Dyestuff
500,000 Zenys
Yellow Ribbon [1]
Edit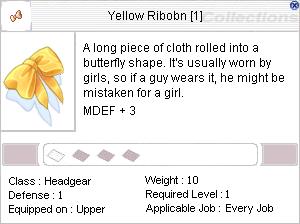 Materials Required:
1 x Ribbon [1]
10 x Lemon Dyestuff
500,000 Zenys
Green Ribobn [1]
Edit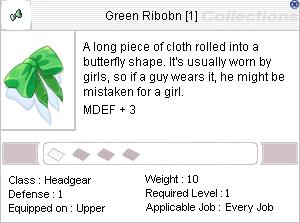 Materials Required:
1 x Ribbon [1]
10 x Darkgreen Dyestuff
500,000 Zenys
Pink Ribbon [1]
Edit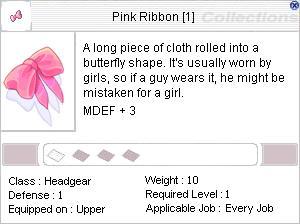 Materials Required:
1 x Ribbon [1]
5 x Scarlet Dyestuff
5 x White Dyestuff
500,000 Zenys
Red Ribbon [1]
Edit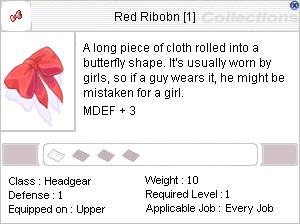 Materials Required:
1 x Ribbon [1]
10 x Scarlet Dyestuff
500,000 Zenys
Orange Ribbon [1]
Edit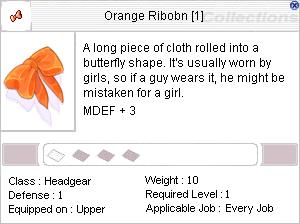 Materials Required:
1 x Ribbon [1]
10 x Orange Dyestuff
500,000 Zenys
White Ribbon [1]
Edit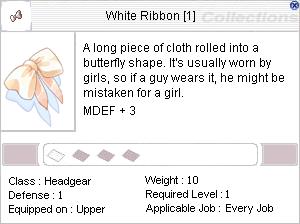 Materials Required:
1 x Ribbon [1]
10 x White Dyestuff
500,000 Zenys
---