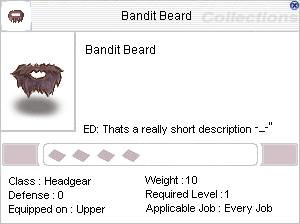 ---
Custom Headgear Creation : Bandit Beard
Starting NPC : Bearded Man
Location : Umbala ( 126, 129 )
---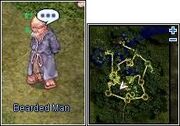 Step 1. Umbala Town
Talk to Beared Man ( Umbala Town 126, 129 ), he will ask for :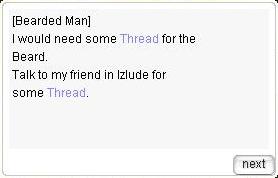 1 x Elastic Band
5 x Animal Skin
1 x Black Dyestuff
1 x Grandpa Beard
100 x Sticky Mucus
1 x Counteragent
1 x 2 Carat Diamond
He will also need you to look for his friend in Izlude for Threads.
Step 2. Izlude town
Enter the Swordman Guild ( Izlude 52, 140 ), take the portal to the Right.
Talk to Master Tailor ( izlude_in 123, 175 )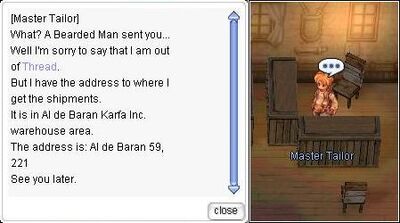 Step 3. Al de Baran
Enter the Karfa Corp.Headquaters from the lower entrance (Al de Baran 69, 179).
Take the Right portal and talk to Karfa Clerk ( aldeba_in 70, 179 )
[ Karfa Clerk ] Sorry but we have not received any Thread. Our shipments have been put off until its safe. You see, we get our Thread from Alberta and monsters keep attacking our merchants. These monsters had never done this before. It may have something to do with the recent warm weathers. Please help us out!
Oh by the way, that Thread Merchant is somewhere around Alberta 60 and 100... Thank You!
Step 4. Alberta

Talk to Man ( Alberta 65, 123 ), He will ask for your help like a man.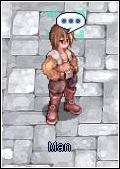 [ Thread Merchant ] ARGGG!! I can never get my stuff to Al de Baran! I keep getting mobbed by some bugs. They steal all my supplies and Thread. Are you here to help me? Oh thank the Gods! If you can only just kill the bugs I would be able to make my delivery.
Oh NO! Here they come!!
He will proceed to get mobbed by some Male Thief Bugs.
Overwhelm them to show that you are much more manly than he is.
[ Thread Merchant ] Thank you for killing the Thief Bugs. As a token of my gratitude here is a box full of Thread.
Step 5. Umbala Town
Pass all the required items to the Bearded Man ( Umbala 126, 129 )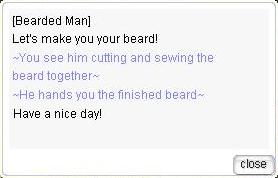 ---